Optimist pathway
Our junior learn to sail programme covers everything from a child's first day of sailing through the
Tackers programme
, and then to Green Adventure, Green Fleet, and racing at local, state, national and international levels.
---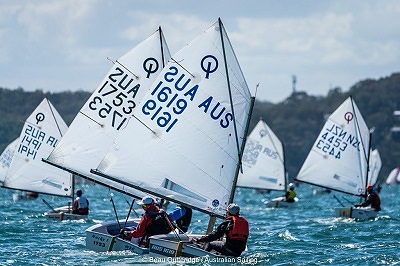 Green Adventure and Green Fleet
Green Adventure and Green Fleet are club based junior (primary school age) sailing activity for kids who have completed the Tackers Programme (all 3 levels) or a similar junior learn to sail programme. Like many sports, sailing recognises that primary school age kids are more likely to enjoy, and be retained in sport, if it is less competitive and more fun/games based and social.
Green Adventure is for students who enjoy sailing and want to develop their skills but are more interested in having fun than competition. Many Green Adventure students progress to Green Fleet racing when they are a bit older and/or more confident.
Green Fleet is for students who are ready to learn the skills of dinghy racing. The focus is still on fun and this is enhanced by learning the new skills associated with racing.
Book now
---
Performance training
Over 60 YEARS of developing young sailors.
Woollahra Sailing Club has a proud tradition of developing young sailors and offering opportunities to juniors whatever the extent of their ambitions, be it as competitive club sailor, Olympic hopeful or purely fan and recreation.
At Woollahra Sailing Club we provide students with all the necessary skills and knowledge to competently sail a small dinghy in moderate weather conditions. Our courses are Yachting Australia accredited and are recognised nationwide. Whatever your age, our professional staff will ensure that you learn to sail and have fun at the same time. We cater to all levels of experience from "land-lubber" right through to expert. After completing a learn to sail course we offer a Sunday morning subsidised pathway in Pacers which allows sailors to further develop their skills on a training track.
Book now
---
Achieving Representative Honours
Many of our members have gone on to achieve representative honours. It is a thrill and an honour for a junior to represent their state or country, but it is an equally uplifting experience for the club itself and and indication that the future of the club is in safe hands.
Many of these keen juniors will become our full adult members, committee men and women, instructors, office holders and commodores in years to come.
There are few things more thrilling for senior club members than seeing the young ones being gripped by the same passion for this wonderful sport that many of them experienced as juniors. Tradition is very much a part of Woollahra Sailing Club and this the love of the sea is passed down from one generation to the next.
---
School programmes
We provide a variety of options to Schools, both primary and secondary. We can provide coaching and training weekdays during or after school and weekends as well. Our available products range from tackers courses for the year 2 kids right through to High School Teams Racing.
The WSC Sailing Programme supports schools who participate in the WSC Schools Racing Series and the NSW Teams Racing Association Championships.
We can provide all necessary coaching and resources for the development of sailing as a new sport in your school. Please call us today for more information (WSC: 02 9371 9805)
Woollahra Sailing Club, conducts school holiday camp programmes for children aged between 7 and 14 years covering an arrange of water based and sailing activities, as well as fun games and team building exercises over four full days of fun on Sydney Harbour. The courses are run during all major school holiday periods throughout the year.
Our courses are fun, safe and fully supervised by qualified Yachting Australia instructors.
---
Last updated 00:48 on 2 June 2022