Tasar TT 2018
Sunday March 11, 2018

-

Monday March 12, 2018
Tasar travelers trophy.
Woollahra Summer Pointscore racing commences at 2pm each Sunday and typically three short races are being sailed, with triangles where possible. It is $10 entry fee for visitors. A reminder that the club is licensed and any visitors are welcome to come and join us for a beer on the balcony after racing. Only one of the best views in Sydney! We have a weekly e-newsletter "WSC – Tasar News" that keeps all members up-to-date. If you would like to subscribe contact the TANSW and they will put you in touch.  Ralph Standford[email protected]
The below clubs all have there own club based programs. If you have a club report, or would like to talk about hosting a TT next year get in touch with the committee.
Checkout our escapades on facebook https://www.facebook.com/TasarNSW
The TANSW Traveller's Trophy (TT) events and Metro Series are sailed at a range of clubs throughout the season and combine to form one series. This is a great way to see other Tasar clubs around NSW and not only race and learn from each other, but enjoy the social aspect of the Tasar class as well. For more information on the TANSW TT events click here.
`Nationals 2013′ ~ hosted by WSC
Saturday
Balmoral Balmoral Sailing Club (BSC) is at the south-eastern end of Balmoral Beach and our sailing area is vast. Our PROs know how to use the large area to ensure that we maximise our sailing opportunities.  There is a large grassy area for rigging boats, and boats are launched and retrieved straight off the beach. We have an extremely large and competitive fleet with 27 Tasars officially registered. There is even a Tasar Club Boat that can be rented for the nominal fee of $10.00.  Racing is on Saturday afternoons from September to May. Our start time is 1300 in Sept, and 1400 from Oct to May. Our reputation of having a competitive fleet, excellent facilities and great PROs mean that we also have a number of visitors who sail with us resulting in racing fleets of 15 to 20 boats. Although competitive, the BSC sailors are friendly, supportive and sharing when it comes to learning more about the rigging and sailing of the Tasar. Looking forward to seeing you there!  Heather Forton – Tasar Class Captain/ 

[email protected]

Jervis Bay There are currently two boats sailing on the beautiful waters of Jervis Bay, although the members are just as likely to be off racing at TT events. Racing kicks off at 1.30pm. If you feel the need to get out of Sydney, visitors are always welcome!  Rob Douglass 

[email protected]

Speers Point Chris Parkinson 

[email protected]

Concord Ryde Concord & Ryde currently have six Tasars sailing on a Saturday in very safe waters with plenty of parking available in a parkland setting.  We are known as "the friendly Club" – Racing kicks off at 2pm.  Be great to see you there!  Nick Brown-Class Captain [email protected]
Queens LakeThere are 3 club boats which are used regularly and two private boats which currently race. We are lucky to have two venues to sail at up here: Queens Lake on Saturdays and Port Macquarie on Sundays. Start times 1pm outside of daylight savings, and 2pm during daylight savings. Both clubs start their seasons in Sept, and finish in April. Paul Robertson 

[email protected]

Dobroyd Aquatic Club has an extremely competitive Tasar fleet consisting of 13 boats who regluarly race on the flat safe waters of Iron Cove. The facilities are excellent with easy free parking and easy setup and ramp access. Matt Rafferty- Class Captain/ 

[email protected]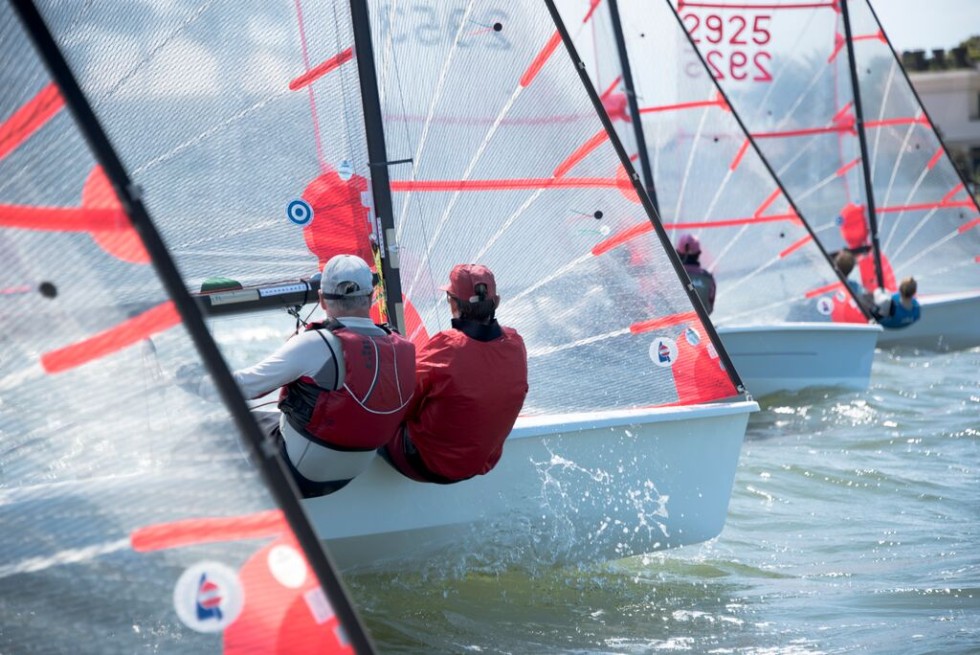 `Start Line' TT1 Oct 2015 ~ GRSC (photo courtesy of TANSW member Fiona Powell)
Sunday
.
Related Events